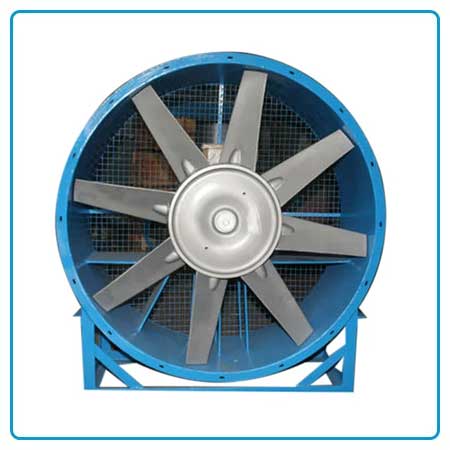 Axial Flow Fan Manufacturers, Suppliers, Exporters in India
We are the best Axial Flow Fan manufacturers, suppliers, exporters in India. Our company is also well known in market as Axial Flow Fan suppliers, exporters in Pune, Mumbai, Aurangabad, Nashik, Kolhapur, Maharashtra, Hyderabad, Bangalore, Chennai, Coimbatore, Telangana, Belgaum, Karnataka, Raipur, Chhattisgarh, Jaipur from India. Axial Flow Fan also known as Tubeaxial Fans, Axial Fans, Axial Exhaust Fan, Axial Flow Fan, industrial axial fans, Tubular axial fans, Tubular Axial Flow Fans, V-Belt Drive Axial Flow Fan, Axial Flow Fan and Duct Axial Flow Fan, Tube Axial Fans Blowers, Industrial Heavy Duty Tube Axial Air Fans Blowers, Belt Driven Axial Flow Fan, Large Axial Fans.
Axial fans are an essential component of many industrial and commercial processes, including ventilation, cooling, and air conditioning. Mahalaxmi Engineering Projects Axial flow fans are designed to move air parallel to the axis of rotation, which makes them ideal for applications where high flow rates and low pressure differentials are required.
When it comes to selecting an axial flow fan for your specific application, there are several factors to consider. The size of the fan, the speed at which it rotates, the power of the motor driving it, and the shape and design of the blades are all critical factors that may have an impact on the fan's performance.
One of the primary benefits of these fans are their ability to move large volumes of air with relatively low power consumption. This makes them an energy-efficient solution for many applications, and they are commonly used in HVAC systems, data centers, and other commercial and industrial settings.
Offered fans are available in a range of sizes, from small fans used in computers and electronics to large industrial fans used in manufacturing facilities and power plants. Some axial flow fans are designed for specific applications, such as those used in marine and offshore environments, which require rugged and durable construction to withstand harsh weather conditions.
One of the key features of axial flow fans is the shape and design of their blades. The shape of the blades can have a significant impact on the performance of the fan, with factors such as blade angle, blade length, and blade curvature affecting the flow of air through the fan. The number of blades is also an important consideration, as this can affect the efficiency and noise level of the fan.
Applications: ventilation, cooling, heating, drying, exhaust, industrial, commercial, residential
Types: propeller fan, tube axial fan, vane axial fan
Components: hub, blade, hub cap, shroud, inlet ring, outlet ring, mounting bracket
Performance: air volume, pressure rise, efficiency, noise level
ENQUIRY NOW