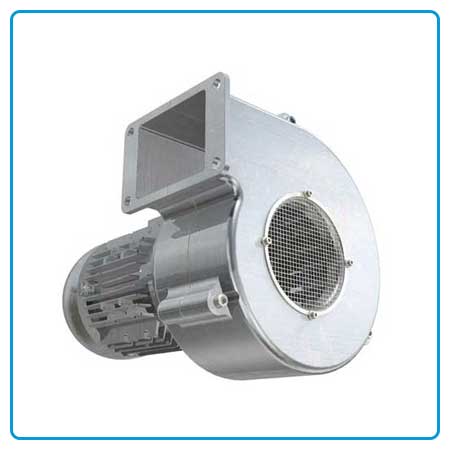 Centrifugal Blower Fan Manufacturers, Suppliers, Exporters in India
Centrifugal Blower Fan Manufacturers, Centrifugal Blower Fan Suppliers, Centrifugal Blower Fan Dealers, Centrifugal Blower Fan Manufacturers in India, Centrifugal Blower Fan Suppliers in India, Centrifugal Blower Fan Dealers in India
We are Centrifugal Blower Fan Manufacturers, Suppliers, Exporters in Pune, Mumbai, Aurangabad, Nashik, Kolhapur, Maharashtra, Hyderabad, Bangalore, Chennai, Coimbatore, Telangana, Belgaum, Karnataka, Raipur, Chhattisgarh, Jaipur, India. A centrifugal blower fan, often simply referred to as a centrifugal fan, is a mechanical device used to move air or gases in various applications. It's a type of industrial fan that generates a high volume of airflow at relatively high pressures. The design of a centrifugal fan allows it to be more efficient in handling higher pressures compared to axial fans, which are better suited for low-pressure, high-flow applications.
Here are Some Key Features & Characteristics of Centrifugal Blower Fans:
Impeller Design: The heart of a centrifugal fan is its impeller. The impeller is a rotating component with curved blades that accelerate the air radially outward. As the impeller spins, it creates a low-pressure area at the center, causing air to be drawn in from the inlet and forced out towards the outlet.
Direction of Airflow: Centrifugal fans can be designed for either radial or forward-curved blades. Radial blade fans are better for high-pressure applications, while forward-curved blades are more suitable for medium pressures.
Pressure Generation: Centrifugal fans are designed to generate a significant amount of static pressure. This makes them well-suited for applications where the air needs to be moved against resistance, such as in HVAC systems, industrial ventilation, air pollution control systems, and pneumatic conveying systems.
Applications: Centrifugal blowers find use in a wide range of industries, including HVAC (Heating, Ventilation, and Air Conditioning), manufacturing, power generation, chemical processing, mining, and more.
Efficiency: Centrifugal fans can offer good energy efficiency due to their ability to generate high pressures with relatively lower energy consumption compared to other types of fans.
Size and Configurations: Centrifugal fans come in various sizes and configurations to meet the specific requirements of different applications. They can be single-inlet or double-inlet, with single or multiple impellers.
Noise Generation: Centrifugal fans generally produce less noise compared to axial fans, making them suitable for applications where noise reduction is important.
Maintenance: Regular maintenance is essential to ensure the efficient operation of centrifugal fans. This includes cleaning, lubrication, and periodic inspection of components.
Variable Speed Control: Centrifugal fans can often be equipped with variable speed controls, allowing the fan speed to be adjusted based on the requirements of the system. This can help optimize energy consumption and airflow.
When it comes to industrial and HVAC systems for superior airflow and ventilation, a Mahalaxmi's centrifugal blower fan stands as an indispensable component. Designed to generate high-pressure airflow, a centrifugal blower fan finds its applications in various industries, from manufacturing plants to commercial buildings.
Our product range also include
Centrifugal Fan
Oven Fan
Couple Blower Fan
Induced Draft Fan
Centrifugal Blower Fan Manufacturers, Centrifugal Blower Fan Suppliers, Centrifugal Blower Fan Dealers, Centrifugal Blower Fan Manufacturers in India, Centrifugal Blower Fan Suppliers in India, Centrifugal Blower Fan Dealers in India
ENQUIRY NOW