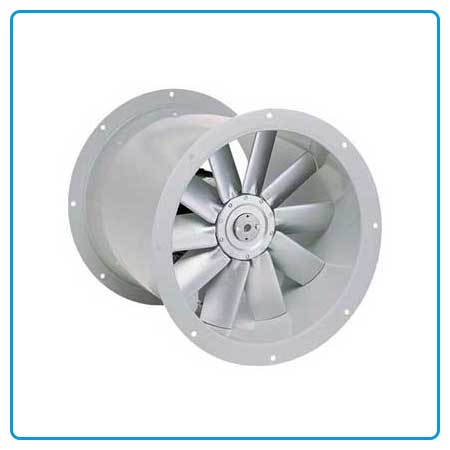 Tube Axial Fan Manufacturers, Suppliers, Exporters in India From Pune, Maharashtra
We are Tube Axial Fan manufacturers in India. We are also Tubeaxial Fan suppliers, exporters in Pune, Mumbai, Aurangabad, Nashik, Kolhapur, Maharashtra, Hyderabad, Bangalore, Chennai, Coimbatore, Telangana, Belgaum, Karnataka, Raipur, Chhattisgarh, Jaipur from India. If you're in need of a powerful and reliable ventilation solution, a tube axial fan might be just what you're looking for.
You can also find here axial flow fans, vane axial fans, tubular fans, cylinder fans, drum fans, duct fans, inline fans, blower fans, exhaust fans, ventilation fans, air circulation fans, industrial fans, commercial fans, HVAC fans, process fans, cooling fans, and heating fans at the best price with high quality.
These fans are designed to move large volumes of air in a linear direction, making them ideal for industrial applications such as HVAC systems, warehouses, and factories.
Here are some key features and benefits of tube axial fans that you should consider when choosing the right fan for your needs:
High Airflow Capacity: Offered axial fans are known for their ability to move large volumes of air at high speeds. This makes them ideal for applications where air circulation is critical, such as ventilation in hot and humid environments.
Durable Design: These fans are built to withstand harsh industrial environments, with rugged construction and high-quality materials that can withstand corrosion, high temperatures, and heavy use.
Energy Efficiency: With advancements in fan technology, tube axial fans are now more energy-efficient than ever before. They can help reduce energy costs while still providing the necessary airflow and ventilation for your facility.
Low Noise: Mahalaxmi Engineering Projects axial flow fans are designed with noise reduction features, which can help create a more comfortable working environment for your employees.
Easy Installation: Offered fans are relatively easy to install and maintain, with many models featuring plug-and-play designs that can be quickly installed without the need for specialized tools or equipment.
When selecting a tube axial fan, it's important to consider factors such as the size of the fan, the airflow capacity, and the specific needs of your application. By choosing a high-quality tube axial fan that meets your requirements, you can ensure that your facility is properly ventilated and your employees are safe and comfortable.
Product Details
Brand - Mahalaxmi Engineering Projects
Business Type - Manufacturers, Suppliers, Exporters
Product Name - Tube Axial Fan
Similar Name - Axial Flow Fan, Axial Fan, Tubeaxial Fan
Fan Type - Duct Mounted Fan, Wall Mounted Fan, V-Belt Driven Units
Country of Origin - Made in India
Blade Material - SS/Stainless Steel, MS/Mild Steel
Product Material - Cast Iron
Usage - Industrial
ENQUIRY NOW