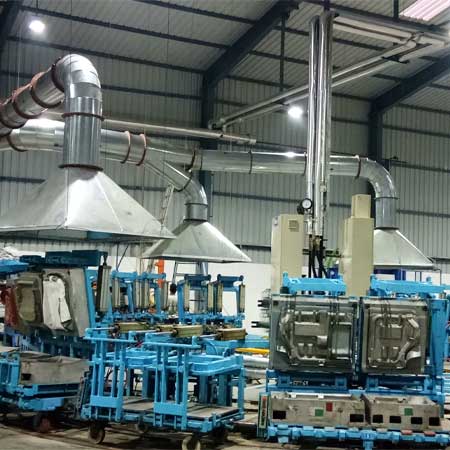 Ventilation System Manufacturers, Suppliers, Exporters in India
We are manufacturers, suppliers, exporters of Ventilation System in India. We are also leading Ventilation System suppliers, exporters in Pune, Mumbai, Aurangabad, Nashik, Kolhapur, Maharashtra, Hyderabad, Bangalore, Chennai, Coimbatore, Telangana, Belgaum, Karnataka, Raipur, Chhattisgarh, Jaipur, India. A ventilation system is a mechanical system designed to provide fresh air and remove stale or contaminated air from an enclosed space. Ventilation systems are commonly used in residential, commercial, and industrial settings to maintain a healthy and comfortable indoor environment.
This system is also known as Air Ventilation System, Industrial Air Ventilation Unit/System, Ventilation Systems Air Handling, industrial ventilation system, fresh air ventilation systems.
The primary function of a ventilation system is to provide fresh air to an indoor space, while removing stale or contaminated air. This is achieved through a combination of mechanical and natural ventilation methods. Mechanical ventilation systems use fans or blowers to move air in and out of the building, while natural ventilation systems rely on the natural movement of air through windows, doors, and other openings.
Mechanical ventilation systems come in two primary categories: exhaust and supply. Exhaust ventilation systems remove stale or contaminated air from the building, while supply ventilation systems bring fresh air into the building.
In addition to providing fresh air, these systems can also help to regulate temperature and humidity levels in the building. By removing excess moisture from the air, it can also help to prevent the growth of mold and mildew, which can cause health problems and damage to building materials.
Properly designed and installed ventilation systems can provide a range of benefits, including improved indoor air quality, increased comfort, and reduced energy costs. However, it is important to ensure that the system is designed and maintained correctly to prevent problems such as poor air quality, noise pollution, and high energy costs.
ENQUIRY NOW
Product Details
Product - Ventilation System
Brand - Mahalaxmi Engineering Projects
Material - Stainless Steel, Steel, G.I
Size - customized
Color - As per client requirement
Automation Grade - Automatic
Frequency - 50 Hz
Country of origin - India