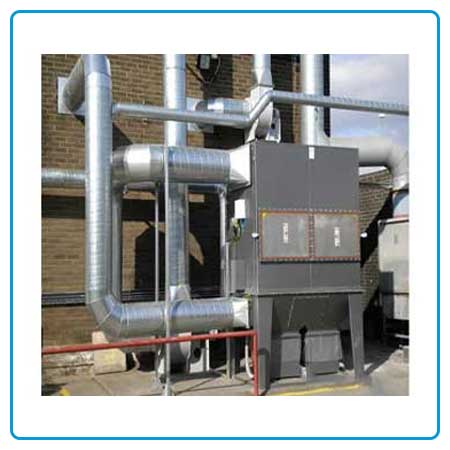 Fume Extraction System Manufacturers, Suppliers, Exporters from India Pune, Mumbai, Aurangabad, Nashik, Kolhapur, Hyderabad, Bangalore, Chennai, Coimbatore, Telangana, Belgaum, Karnataka, Raipur, Chhattisgarh, Jaipur
We are a company involved in offering a wide range of Fume Extraction System. Fume Extractor, Mild Steel Fume Extraction System, For Dust Collection, Automation Grade: Fully Automatic, This is fumes extraction system for induction furnace.
Fume Extraction System are essential equipment for numerous industries as they help protect workers' health and safety by removing harmful airborne particles and pollutants from the workplace air. These systems use advanced technologies to capture and filter fumes, dust, smoke, and other pollutants. We are the best quality Fume Extraction System manufacturer and will provide a solution that not only meets your performance requirements but also your budget constraints.
Here are some of the specifications you should look for when choosing a Fume Extraction System manufacturer:
Airflow Volume and Velocity
Filter Technology
Noise Level
Energy Efficiency
Customization
Advantages of Our Fume Extractor or Extraction Systems for Industrial Uses
Creates a clean and secure workplace.
Removes the need for an ETP plant to filter the water by capturing the dry particles.
Any emission level is feasible with the aid of this Fume Extraction Systemand filtration equipment.
The system comprises all required hardware (Swivel hood, Dust Collector System, Ducting, ID Fan etc.)
Makes a workplace that is safe and clean.
Operation that is simple and requires no maintenance
No bags should bind or clog.
Hardly little power usage.
Minimal downtime is crucial for process machinery
Industries we serve Fume Extraction System
Welding
Chemical manufacturing
Pharmaceutical manufacturing
Laser cutting
Painting
Food and beverage manufacturing
Overall, Fume Extraction System are an important tool in many industries to help keep the air clean and safe for workers.
ENQUIRY NOW
Tags: Fume Extraction System Manufacturers, Fume Extraction System Suppliers, Fume Extraction System Exporters from India Pune, Mumbai, Aurangabad, Nashik, Kolhapur, Hyderabad, Bangalore, Chennai, Coimbatore, Telangana, Belgaum, Karnataka, Raipur, Chhattisgarh, Jaipur